In today's episode, we are continuing our mini-series walking through the four pillars of the Love Your People Well™ Podcast. Today we are answering the questions of WHAT and WHY for pillar #2: Love Yourself Well. 
What does it mean to love yourself well?
This is such an important topic. It is so easy to neglect our mental health and put off time for self care. We spend so much time caring for other people, we run out of time for ourselves.
In my counseling work, I have worked with countless women struggling with this. In fact, I think we all do it! We focus on other people and let our own wellness slip by. Our hearts get sidetracked by anxiety, stress, discouragement, fear, and so many other hardships. We want things to change, but we struggle to find the time to do it. 
No more, my friend! 
Today, we look at what it means and why it's important to love yourself well. Join me on this journey to health, wholeness, and healing.
It can be a hard enough struggle to find time for our own self care… but then we have to come up with ideas for what to do?!
Don't just get lost in mindless social media scrolling. Use those few minutes of self care time intentionally! Get your FREE copy of the 51 Self Care Ideas List!
P. S. … if you find today's episode about self care and mental health helpful, you'll want to check out my Recommended Resources for Self Care & Identity! You may also find my recommendations for Emotions & Conflict to be helpful as well.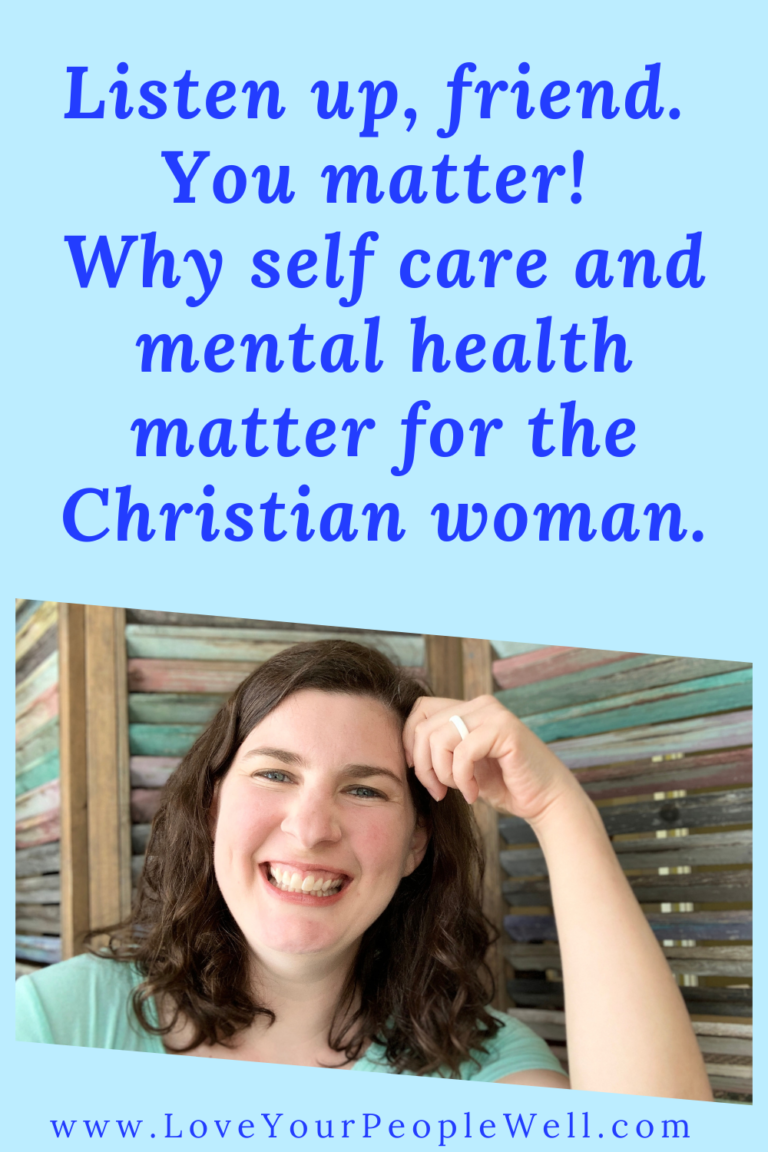 Today we dig into the questions of WHAT it means to love yourself well and WHY it is important. 
Want the simple breakdown?
(But really, you'll get so much more from listening to the whole episode!)
WHAT it means to love yourself well: Intentionally caring for yourself as a daughter of the KING. 
It means you know yourself. What are your strengths? What are your struggles?
It means you monitor your needs: emotional, physical, and beyond. How will you meet your needs if you don't know what they are?
Then, you act intentionally to meet those needs.
What does it NOT mean? Selfishness. Pride. Vanity.
WHY is it important to love yourself well?
You are created in the image of God! You matter.
You are redeemed by the sacrifice of God! Jesus did not die for you so that you could burn yourself out and never take time to refresh and refuel. He took the time… so should we. 
It is necessary, so you have energy and emotion to give to others. 
And hey, don't forget to download your FREE copy of the 51 Self Care Ideas List! Don't wait, friend. Take time today and every day to care for yourself.
As I mentioned in the episode as a disclaimer, I am a licensed therapist but this podcast is not therapy; it is not personal advice to your specific situation. If you believe professional counseling may be helpful for you in this season of life, you may find this article on the Love Your People Well website helpful.