What are we talking about today?
Ever struggle with trying to control what's happening for your family? As Christian moms, we take so much ownership of what's happening in our marriage, our home, and our children's lives. 
Yes, we need to take those things seriously. Yes, we have responsibilities to our family. But, mama, you are not in control. And that's what we're looking at today as we dive into Psalm 91 in our Summertime in the Psalms series. 
Who is in control: you… or God? Who do you really want to be in control: you… or God?
Let's dive in.
If today's topic is meaningful to you, you'll also want to check out these earlier podcast episodes that connect with this same topic:
Episode 50 // Marriage & Motherhood… why it's so hard, why it matters so much, and my #1 tip for doing it all well.
Episode 56 // What to do while you're waiting for God to do a miracle in your family, life, or church
Episode 72 // A busy mom's guide to understanding the Bible, applying it to real life, and shaping your family's spiritual growth
[This post may contain affiliate links. If a purchase is made, I may receive a small commission at no extra charge to you.]
Snag your resources here!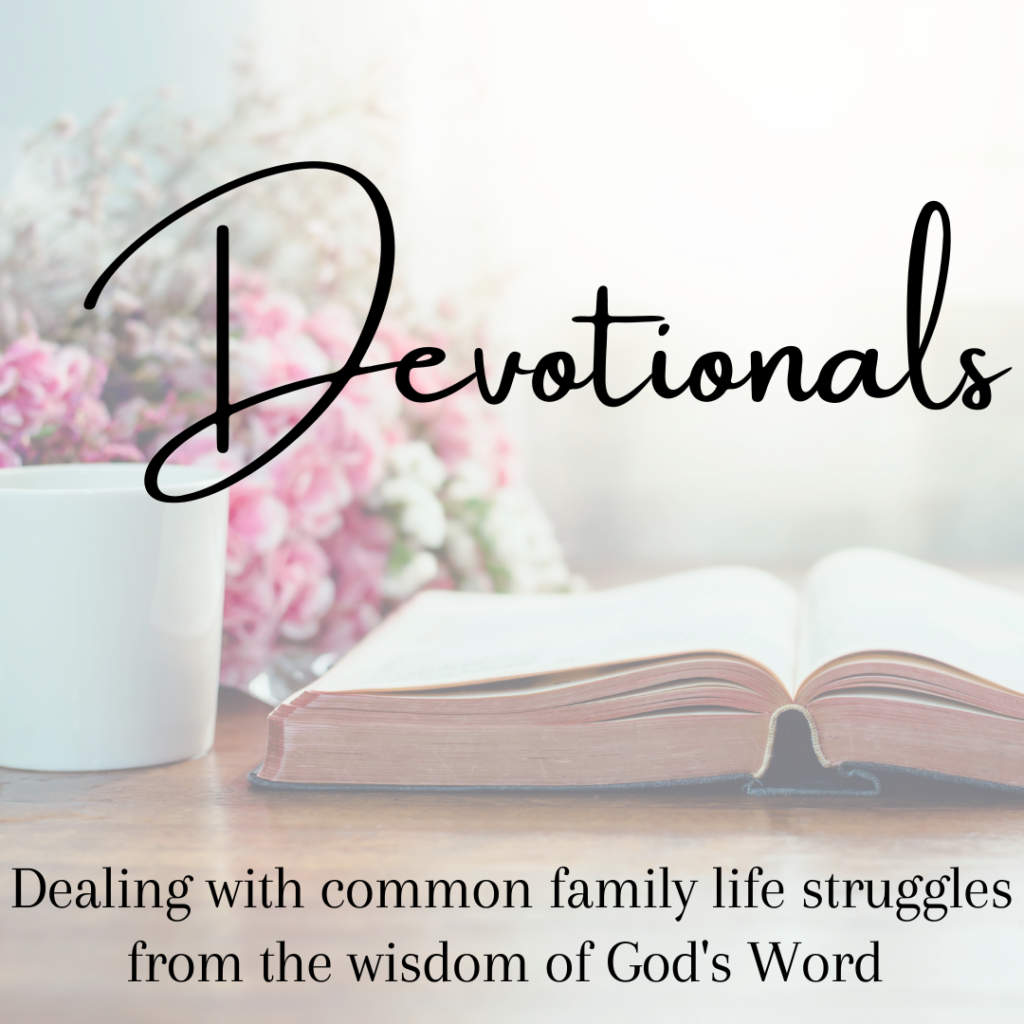 When you're struggling with a family issue, there is no better place to turn than to the Bible. Struggling with anger? Communication in your marriage? Standing firm and confident in your identity in Christ? Don't struggle alone. Check out the devotionals from Love Your People Well to help you address those common family struggles.
Let me also offer a FREE resource that I know will be helpful:
[This post may contain affiliate links. If a purchase is made, I may receive a small commission at no extra charge to you.] 
Today's Episode Highlights
What wisdom can we get from the psalms? Plenty!!
Today, let's look at Psalm 91 together to learn about God, ourselves, and to seek his wisdom for Christian family life.
What happens when I trust God?
In this short psalm, we see several truths about trusting and following God. 
Verses 1-8 tell us… If I trust and follow God, He will save me, He will cover me, and I need not fear death or destruction.
Followed by verses 9-13, which tell us… If I trust and follow God, no ultimate harm will overtake me, He will guard me and protect me, and I will conquer. 
Clearly, following God leads to GOOD things!
The psalm closes out by telling us what we can expect because we love God: He will rescue me, protect me, and when I call on him He will answer me, deliver me, honor me, and show me salvation. 
As we consider these truths, I find it helpful to summarize these deep truths. And here it is:
As I love, trust, and follow God, I can REST in his faithful, protective love.
I don't need to try to be in control of my family life – I can trust that God is in control!
Although I can never expect things in life to always go my way, I can rest in God's love. And I can help my family to do the same. 
One of the things that I love about Psalm 91 is that it is very clear about who God is and what He does verses what we do. Let's consider together:
… Who is God? My refuge (v. 2, 9), fortress (v2), Most High (v9), my dwelling (v9), my rescuer (v.14), my protector (v14), my savior (v16)
… What does GOD do? saves (v3), covers me (v4), protects (vv4-7), punishes the wicked (v8), commands his angels concerning me (v11), guards me (v11), rescues (v14), answers (v15), stands with me in trouble (v15), delivers (v15), honors (v15), gives life (v16), satisfies (v16), gives salvation (v16)
… What do I do? dwell (v1), rest (v1), trust (v2), praise (v2), never fear (vv5-6), observe (v8), make God my dwelling (v9), tread on lion and cobra and serpent (v13), acknowledge God's Name (v14), call on God (v15)
While God is doing all the heavy lifting, I am dwelling resting, and praising. All I need to do is rest in him. Call on him. Trust him. And let him do his thing!
Three take-aways for family life
With these truths about God's role and my role in mind, I find 3 helpful and practical take-aways for myself as a mom leading my Christian family. 
Develop godly family habits, especially prayer. 

Teach my kids WHO God is, WHAT He does, and HOW we respond.

Live by faith day in and day out, trusting God and praying always.
Are these things easy? Of course not! But as we see in this psalm, they are incredibly important. They not only help us individually draw near to God, but help us shepherd our children into deeper faith and spiritual growth too.
If you're struggling with these three steps, make sure to grab my FREE Holy Habits 45-Day Bible & Prayer Challenge. It will help you develop this godly habit, build confidence in understanding God and showing him to your kids, and deep your daily faith walk with the Lord.
Christian family life is hectic. Busy. And sometimes, filled with trouble and hardship. Jesus promised that we would have trouble in this world! (John 16:33) But He also promised to give us peace, rest, and joy. Join me in this short follow-up episode as we pray through Psalm 91 for our families, seeking the rest and peace that God promises as we trust in him.
Join us in our free, private Facebook Group! This community is all about engaging, encouraging, and equipping each other as sisters in Christ.
If you find my podcast or blog valuable, please support this ministry with Buy Me A Coffee!
Make sure you Follow or Subscribe to the podcast on your favorite player.
Share this episode with a friend who needs to hear it; just text or email the link.
And hey, I'd love to connect with you on Instagram! @loveyourpeoplewell
Don't miss future episodes!
Follow the show on:
A reminder of the Disclaimers & Disclosures Policy: I am an affiliate with many of the resources I recommend, which means I may receive a small commission if you make a purchase through my provided links. I never recommend products I don't love! Also, I am a licensed therapist but this podcast is not therapy. It is not professional or personal advice to your specific situation. Get info about professional counseling here.