I often find that the summertime is a season of way too much busyness for our family. There is so much going on, so many fun family activities, but it is easy for things to pile up. We get more and more on our plates, and I start to be one overwhelmed mama!
Well, if this is you (at any season of life!) then this podcast will help you out. 
In today's episode, I've got 4 quick tips that will help you set healthy family boundaries.
Protect your family time. Simplify your family calendar. Manage your commitments and engagement with the outside world, so that you can go deep with your people. Purposefully family time is a must! And if we want that, we need healthy boundaries. 
So check out these practical strategies and get things back on track for your family!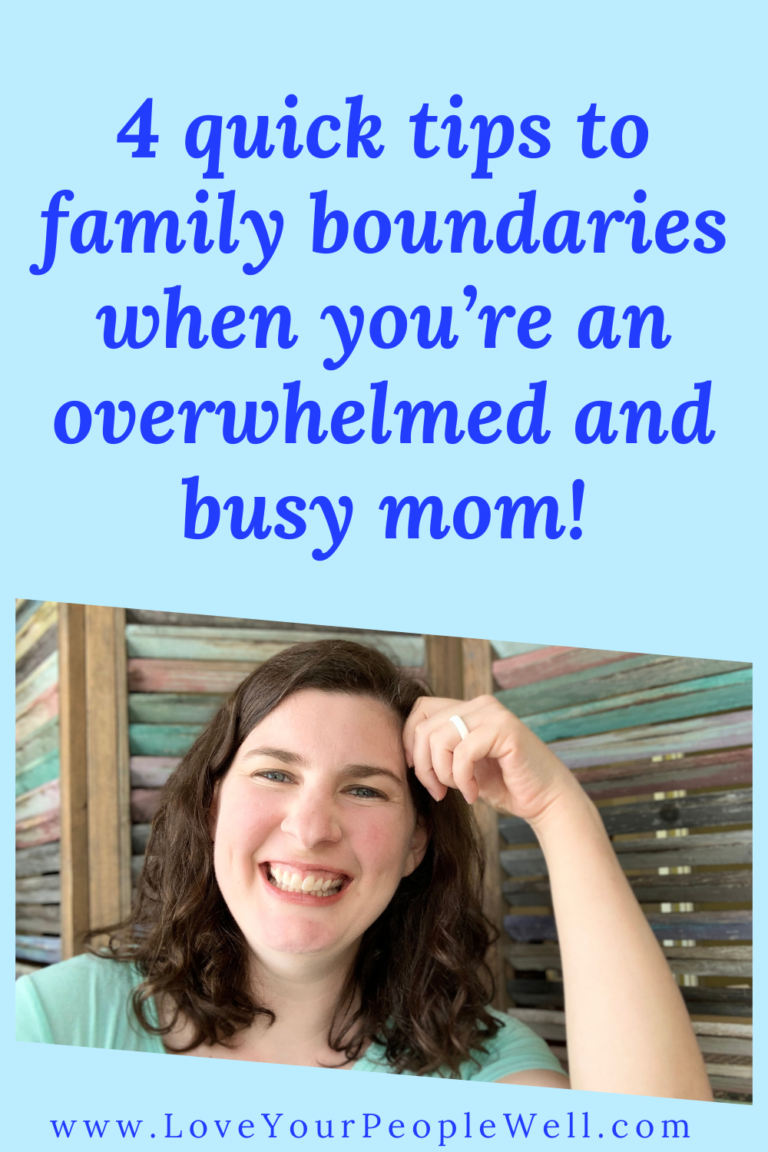 Life is busy. There's simply no way around it. But the busier we are, the more important it is to be intentional about our family boundaries. 
So if you're feeling overwhelmed, take a moment to check in on your family life. 
Are people feeling connected? Are you able to see each other regularly? Is the outside world creeping in and stealing your time, focus, or emotional energy?
Set some family boundaries!
Here are 4 quick tips for those boundaries – but, you will get a lot more out of the whole episode!
Have a visible family calendar in your home. Update it weekly with your husband – or daily if needed! If you don't have one right now, you can hang up a poster board and make your own calendar for the month.

Identify ONE family priority for any given season. For some, that's a quarterly goal, like "have a family movie night once a week". For others, it might be a priority by the month, like "spend a family day at the beach without any work tagging along." Then say yes or no to other possible options based on how well they fit into the family priority.

Set an end time each day for technology use. Phones go down. Laptops close. TV gets turned off. 

Have a family gathering (in my family, we called it the weekly family meeting) each week at the same time to review the plan for the week, desired activities, etc. Get everyone on the same page. Make it fun – maybe over a favorite Saturday breakfast.
Try it out! 
As a disclaimer: I am a licensed therapist but this podcast is not therapy. It is not personal advice to your specific situation. If you believe professional counseling may be helpful for you in this season of life, you may find this article on the Love Your People Well website helpful.