What are we talking about today?
I love the holiday season. Many of us do!
The problem is, they sometimes get so busy, so filled with stress, so focused on the gifts and the stuff and the family obligations… we don't get to really enjoy our people during this important time of year. 
No more.
In today's episode I'm sharing the 3 gifts that your family needs to have a meaningful holiday – and there's no "stuff" involved!
Let's keep things low-stress. Let's enjoy Thanksgiving, Christmas, and all the rest. 
Ready? Let's dive in.
[This post may contain affiliate links. If a purchase is made, I may receive a small commission at no extra charge to you.]
Snag your resources here!
If today's topic is meaningful to you, you'll also want to check out these earlier podcast episodes that connect with this same topic:
Let me also offer a few resources that I know will be helpful for getting a meaningful, low-stress holiday with your family: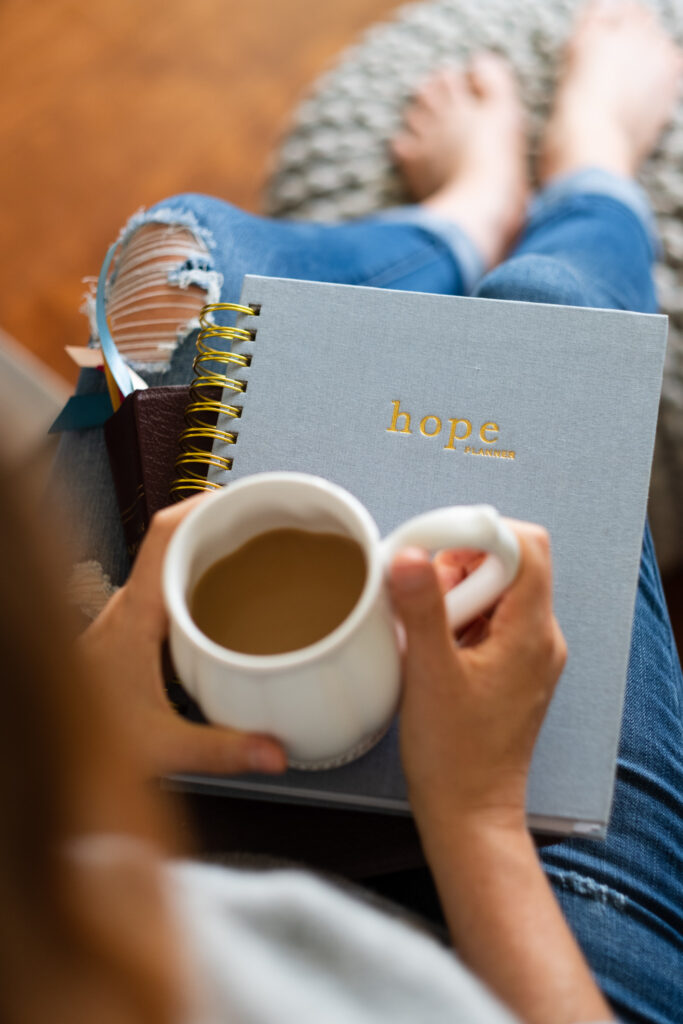 You'll also find it really helpful to go into the holidays with a clear PLAN for how you want to use your time well. 
I use the Hope Planner, and it is so helpful with guiding me to keep my priorities on track. And for me, that means time with God and time with my family.
This elegant planner is undated, so you can start using it at any time! Check out the Hope Planner right here.
[This post may contain affiliate links. If a purchase is made, I may receive a small commission at no extra charge to you.] 
Today's Episode Highlights
It is easy to fill the holidays with STUFF. We pack our calendars with fun activities. We pack on the credit card debt buying gifts. We pack present after present for our kids (who already have more than enough things.)
That can be fun, but sometimes it falls short of feeling like a meaningful family holiday time… and it definitely makes us more likely to feel stressed and busy. 
Here are 3 gifts that I recommend you focus on instead, so that you can really enjoy the holiday time with your most important people.
Give the gift of your presence.
Presents are fine. But your presence is far more important to your special people!
Don't over-fill the holiday calendar. Allow for time to sit at home, relax with a movie or hot cocoa, and have a fun conversation or game together. One-on-one time is particularly great for getting meaningful time together. 
Make sure that you aren't only present with your body, but also with your eyes, your smile, and your attention. 
Personally, I use the Hope Planner to help me keep track of the calendar and prioritize time with my family. It is easy to use (and undated, so I started in the middle of the summer!) and has just enough white space and prayer-prompts to keep me focused. You can check out the Hope Planner here. 
You won't really enjoy the holiday season if you aren't planning fun activities!
Let each family member have a chance to take the lead during the holidays and focus on their favorite activity. (But know how well everyone else will handle it, so you can prepare in advance.)
And remember, set realistic expectations for yourself and your family. Not everything will be perfect. Something that was fun last year might be a let-down this year. That's okay. Focus on the positive together. 
Ultimately, if you want a meaningful holiday season, you need to help your family remember that it's not all about your family. 
Get everyone involved in giving, volunteering, or serving during the holidays.  Did you know that every day, the Tuesday after Thanksgiving is "Giving Tuesday" – set apart worldwide for supporting local charities and nonprofits. Find a family favorite and make a donation or volunteer together!
Beyond this, you can bring a healthy and holy perspective to the holiday season by talking and praying about people who are struggling. Invite your kids into that process. They can pray with you or visit the homeless shelter with you. 
And don't forget, there are plenty of gifts that provide perspective – that might be books, classes or local activities, or maybe sponsoring a child from another country through a nonprofit agency. There are so many options!
As a follow-up to the main episode, Episode 52.5 provides a quick look at the spiritual and theological truths of the Thanksgiving and Christmas holidays.
We love the holiday season because it brings traditions. Yes, it's commercialized in a big way. But even God commanded his people, from their earliest days as a nation, to remember certain days or seasons of the year and to celebrate them. They sometimes had a fast and sometimes enjoyed a feast. God calls us to remember him and what He has done. These holidays help us do just that. Take a listen to this short Friday Faith Follow-up episode. 
Join us in our free, private Facebook Group! This community is all about engaging, encouraging, and equipping each other as sisters in Christ.
Make sure you Follow or Subscribe to the podcast, so you don't miss any future episodes. 
Share this episode with a friend who needs to hear it: you can text or email the link to her.
And hey, I'd love to connect with you on Instagram! @loveyourpeoplewell
Don't miss future episodes!
Follow the show on:
A reminder of the Disclaimers & Disclosures Policy: I am an affiliate with many of the resources I recommend, which means I may receive a small commission if you make a purchase through my provided links. I never recommend products I don't love! Also, I am a licensed therapist but this podcast is not therapy. It is not professional or personal advice to your specific situation. Get info about professional counseling here.