What are we talking about today?
Easter is my favorite holiday. And it's one that is easy to skim past… to wear the colorful dress, decorate some eggs, attend a big church service, and then move on with life. 
Nope. Not around here!
If family discipleship is important to you, Holy Week and Easter is an incredible opportunity to go deeper in engaging your children with the gospel. In fact, today's episode will give you a TON of ideas for conversation starters, activities, and creative ways to connect the truth of God's Word with your kids' lives. Any time of year, these ideas will be helpful!
So hop in to the episode for some brainstorming, idea generating, and general family encouragement as we look at how to truly celebrate Jesus' life, death, and resurrection with our Christian family.
Let's dive in.
If today's topic is meaningful to you, you'll also want to check out these earlier podcast episodes that connect with this same topic:
Episode 55 // 7 family discipleship strategies to teach your children how to love others, give back, and make an impact
Episode 53 // How the Gospel changes us, shapes our family life, and brings us peace and happiness.
Episode 61 // You have to prioritize your OWN faith if you want to have success with family discipleship
[This post may contain affiliate links. If a purchase is made, I may receive a small commission at no extra charge to you.]
Snag your resources here!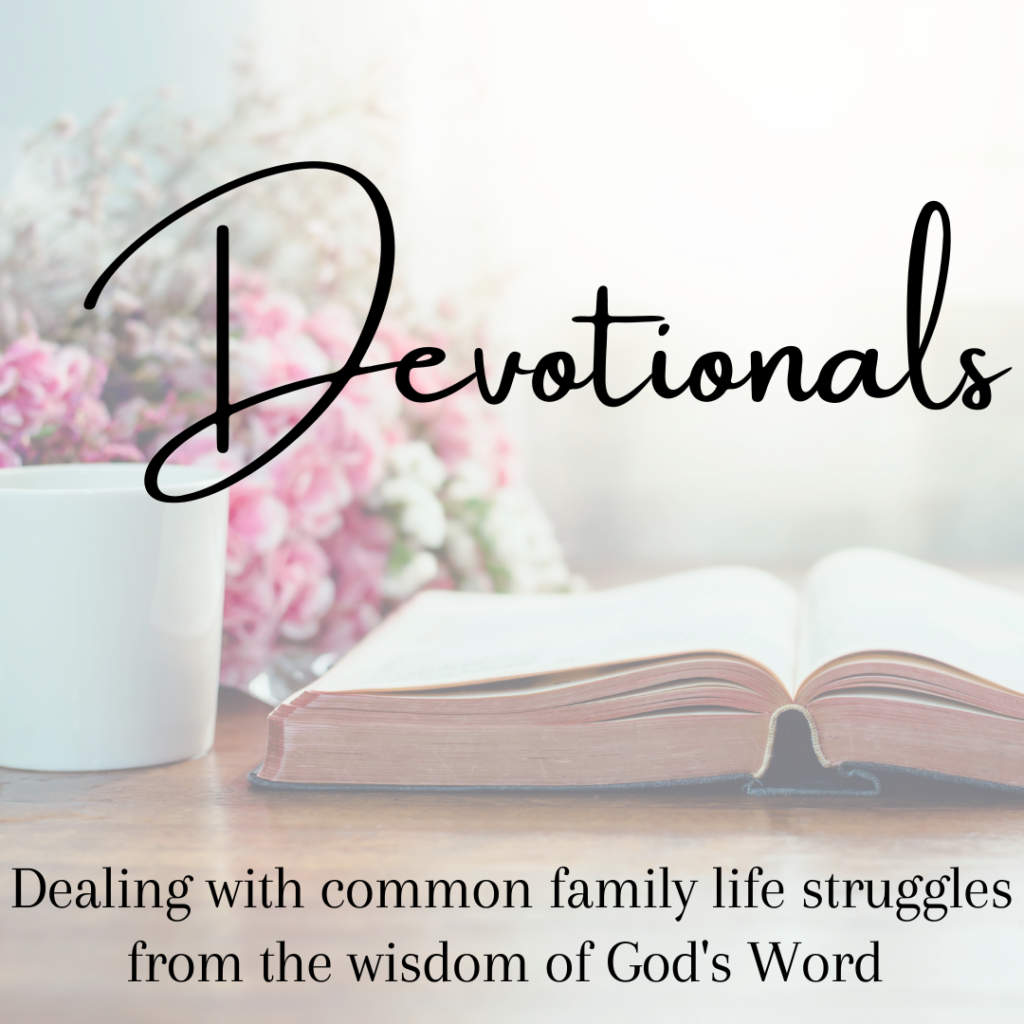 If family discipleship is important to you, these devotionals will be super helpful! Dive into a variety of family topics, from anger management to communication to finding your identity in Christ. Go deep into God's Word for wisdom in family life.
Let me also offer a FREE resource that I know will be helpful:
Building a daily habit of time with God is central to healthy spiritual growth. And if you aren't there yet, your kids certainly won't be! So grab the FREE Holy Habits 45-Day Bible & Prayer Challenge to get started today.
[This post may contain affiliate links. If a purchase is made, I may receive a small commission at no extra charge to you.] 
Today's Episode Highlights
During Easter, we have a natural opportunity to talk with our kids about the gospel. But it's easy to skip past deep conversations or engaging moments because of the traditions or routine around the holiday. 
So try these ideas to break out of that rut and ENGAGE your kids!
You may also want to check out the simple Easter Story Cards in my Etsy shop for a tangible resource!
Palm Sunday & During Holy Week
On the Sunday before Easter, we celebrate Palm Sunday. This is when Jesus entered Jerusalem for his final week of life. He rode on a donkey, fulfilling Scripture, and the crowds cheered his arrival.
Here are some ideas for Palm Sunday and Holy Week in general:
Take time this week to read through Old Testament Scripture.

Everyone could share their favorite story. Act it out. Sing songs about it.

Highlight how every one of those stories points to Jesus.

Talk together about how Jesus approached God: He knew the Word, memorized the Word, took the Word seriously, and lived it out.
On Thursday before Easter, the Church celebrates the Last Supper. Jesus shared his final Passover meal with his disciples. He washed their feet and initiated communion by breaking the bread and sharing the cup of wine and telling his disciples what was going to happen. 
Here are some ideas for your family to engage at this point in the week:
Wash each other's feet and talk about the meaning of this event. 

Identity ways your family can serve in your local community; try to get out and do that this week.

Write notes of encouragement to people in difficult jobs (first responders, nurses, etc) or people you love who are far away. 

Invite your family into a time of confession. Read prayers from the Book of Common Prayer if you aren't sure how to get started with this type of prayer. (You can find it online easily.)
Jesus in the Garden of Gethsemane and Being Arrested
After the Last Supper, Jesus took his closest friends to the Garden of Gethsemane for prayer. He asked them to pray with him, but they fell asleep. After his own prayer time, Judas arrived with solders and Jesus was arrested.
Pray together as a family, especially intercessory prayer for people you know who are struggling. 

Talk about how to handle issues like bullying, fighting, being stabbed in the back by a friend, etc. How do we handle this? How do we forgive?

Have everyone write down their biggest, deepest prayer request or struggle. Pray over it silently. Rip it to pieces or burn it in a bonfire.

Talk about the importance of friendship – with God, siblings, and others.
Unfair Trial & Peter's Denial
Pray together for your country's legal system and for justice to be done. You could take an outing to your local court buildings to pray on-site.

Seek forgiveness from someone you've harmed in the past. Maybe this is a conversation with your child, a letter written, or a visit planned.

Talk about peer pressure and how powerful it is. Ask questions to your child, or present scenarios to ask them "How do you think you could handle this?" and help them get specific actionable ideas in place.

Review the beatitudes (Matthew 5) and talk about what Jesus tells us to expect about persecution. Jesus' last talk with his disciples (John 15-17) is also helpful here. This could also be a great chance to create a memory card game or write lists together, to better grasp God's Word.
Good Friday - Jesus' Crucifixion and Death
On Good Friday, the Church remembers the crucifixion and death of Jesus. We mourn. We reflect. And this is a great opportunity to go deeper with your kids. 
Some ideas include:
Attend a Good Friday service together at a local church. Attending church at "off" times is a great witness to your kids.

Light and dark are symbols used in Scripture (the sun went dark for hours while Jesus hung on the cross) and used in many Good Friday church services. Talk with your kids about light (good) and dark (bad). Link this to movies, such as Star Wars or many others with a theme of good vs evil. Play games with flashlights or blindfolds to help it connect with them.

Identify scary, hard, or otherwise "bad" moments in life. Then identify together ways that God has used those for good. Just as Jesus' death was the worst thing that ever happened… it was also the best! God made it good.

Celebrate the Passover dinner together, or a church Seder event.
This can be a time to talk about how "normal" and mundane life can be despite the most amazing things that God does. How do we keep him first in our lives? How do we see him moving even when it seems like He is silent?

Read Scripture together about Jesus' death and resurrection and how we now have new life in him. There is a lot in the New Testament letters about this!

Review Jesus' miracles or stories from the gospels. Circle back to family favorites. You could act them out, create a comic book together, or find songs that celebrate specific miracles of Jesus.

Wear black together as a family and talk about what it means to be mourning. This could be a day for fasting and reflection on God.
Of course, Easter is the culmination of Holy Week! The Church celebrates Jesus' resurrection from the dead, and the new life that we receive in him.
Yes, attend church with your family. Celebrate together. And here are a few other ideas:
Create resurrection eggs or resurrection gardens together with your kids, as fun, tangible activities. (You'll find plenty of ideas on Pinterest!)

Act out the empty tomb and Jesus… dead and now alive! Lay on the ground and jump up to dance. Draw or color images of life together.

Sing together, feast together, and celebrate together.

Wear pretty, fancy clothes (an Easter classic) and talk about how we can use our bodies and our appearance to honor God. Black is for mourning. Colors and white are for celebration.

Read Scripture together about what happens next. Jesus appears to his disciples! He ascends to heaven! Talk about where He is today and what He is doing today. This may be a good chance to read some in the book of Revelation to discuss the end times together, when Jesus will return again.

Talk about the new life we have in Christ. You could make lists together from the New Testament letters (such as Colossians 3) of the "old self" vs "new self." You could create spiritual armor from Ephesians 6. Have fun with it!
As we reflect on Good Friday, let's take a moment and ask a real question. Why do we call it "good" when the most horrible event in human history happened on that day? A little further… how do we find God's good in the middle of the awful, the bad, the scary, the unimaginable?
Today is a devotional reflection on the GOODNESS of Good Friday, of God's plans, and of his timing. Join me for a word of encouragement, and find his hope in the middle of whatever mess you're going through. Dive into this short follow-up episode for encouragement and hope. 
Join us in our free, private Facebook Group! This community is all about engaging, encouraging, and equipping each other as sisters in Christ.
If you find my podcast or blog valuable, please support this ministry with Buy Me A Coffee!
Make sure you Follow or Subscribe to the podcast on your favorite player.
Share this episode with a friend who needs to hear it; just text or email the link.
And hey, I'd love to connect with you on Instagram! @loveyourpeoplewell
Don't miss future episodes!
Follow the show on:
A reminder of the Disclaimers & Disclosures Policy: I am an affiliate with many of the resources I recommend, which means I may receive a small commission if you make a purchase through my provided links. I never recommend products I don't love! Also, I am a licensed therapist but this podcast is not therapy. It is not professional or personal advice to your specific situation. Get info about professional counseling here.